First In-Person Residency Rumble in 2 Years Crowns It's First Individual Champion
Saturday, August 13, 2022
The culmination of the event was the traditional Residency Rumble academic game show with questions contributed once again by the American Board of Podiatric Medicine and sponsored by Ortho Dermatologics. The 1st-Place prize of $500 went to Mutjtaba Qureshi, DPM of St. Mary's General Hospital, Passaic, NJ. The 2nd-Place prize of $250 went to Calvin Hensley, DPM of DVA Salem, VA. The 3rd-Place prize of $200 went to Jonathan Fung, DPM of perennial winner St. Barnabus Hospital, Bronx, NY. The 4th-Place prize went to Guang Yang, DPM of Coney Island Hospital, Brooklyn, NY and the 5th-Place prize went to Samantha Dunn, DPM of Stony Brook University Hospital, NY.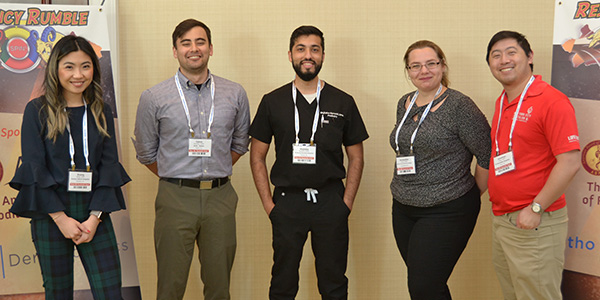 Residency Rumble academic game show winners (L to R): Guang Yang, DPM, 4th-Place, Calvin Hensley, DPM, 2nd-Place, Mutjtaba Qureshi, DPM, 1st-Place, Samantha Dunn, DPM, 5th-Place and Jonathan Fung, DPM, 3rd-Place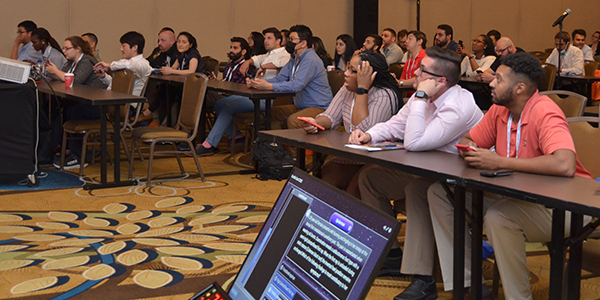 Residents at this years Rumble intensely attempt to answer quickly and correctly in this exciting back and forth competition.
The Prizes
$1100 Total in Prize Money was Awarded
---
$500 1st Prize

►

Mutjtaba Qureshi, DPM from St. Mary's General Hospital, Passaic, NJ
$250 2nd Prize

►

Calvin Hensley, DPM from DVA Salem, VA
$200 3rd Prize

►

Jonathan Fung, DPM from St. Barnabus Hospital, Bronx, NY
$100 4th Prize

►

Guang Yang, DPM from Coney Island Hospital, Brooklyn, NY
$50 5th Prize

►

Samantha Dunn, DPM from Stony Brook University Hospital, NY