20th Podiatric Residency Education Summit East Returns to Live In-Person
About the Conference
The 20th PRESENT Podiatric Residency Education Summit East took place live in-person this past weekend after running virtually for the last 2 years due to COVID. A lecture program with contributions by Residents and Residency Directors was ably designed and chaired by Drs Harold Schoenhaus along with Co-Chairs Robert Frykberg and Marie Williams.

Saturday's lecture by Joseph D'Amico, DPM, DSc, DABPM had referenced an article titled, Emerging Insights On The Collapsible Cavus. Click Here to view this article.
First In-Person Residency Rumble in 2 Years Crowns It's First Individual Champion
The culmination of the event was the traditional Residency Rumble academic game show with questions contributed once again by the American Board of Podiatric Medicine and sponsored by Ortho Dermatologics. The 1st Place prize of $500 went to Mutjtaba Qureshi, DPM of St Mary's General Hospital, Passaic, NJ. The 2nd Place prize of $250 went to Calvin Hensley, DPM of DVA Salem, VA. The 3rd Place prize of $200 went to Jonathan Fung, DPM of perennial winner St Barnabas Hospital, Bronx, NY. The 4th Place prize went to Guang Yang, DPM of Coney Island Hospital, Brooklyn, NY and the 5th Place prize went to Samantha Dunn, DPM of Stony Brook University Hospital, NY.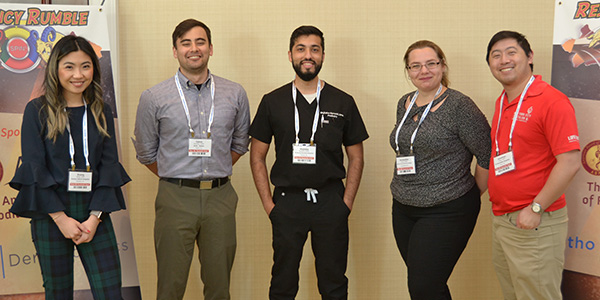 Residency Rumble academic game show winners (L to R): Guang Yang, DPM, 4th-Place, Calvin Hensley, DPM, 2nd-Place, Mutjtaba Qureshi, DPM, 1st-Place, Samantha Dunn, DPM, 5th-Place and Jonathan Fung, DPM, 3rd-Place
Faculty Development Workshop
Suhad Hadi, DPM, FACFAS chaired a well-attended Faculty Development Workshop for Residency Directors, featuring presentations by credentialled educator Johnny Alayon, DPM, MS and veteran Residency Directors Marie Williams, DPM, DABPS, DHL, and Jarrod Shapiro, DPM, FACFAS, FACPM, FFPM, RCPS Glasg.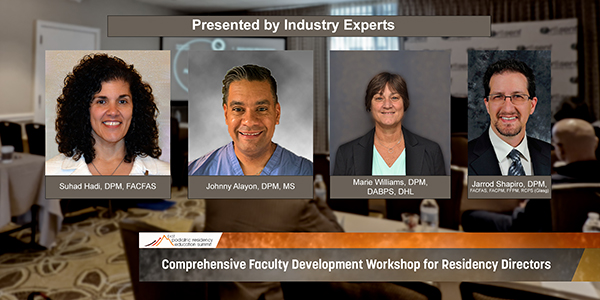 Workshop Attendance Winners
Allen Fung
Won Ho Ryan Cheng
Michael Siciliano
Calvin Hensley
Benjamin Klopfenstein
Maryann Cheema

Andrew Lam
Marquis Carsell
Samantha Dunn
Magdalene Armanious
Joseph Cione

What Attendees are Saying
The Teaneck, NJ conference is a great place to where you can learn and also network with your peers. I highly recommend this conference due to its value.
Nicholas Szwaba, DPM
Staten Island, NY


I appreciated the food and exhibit hall. the scanning times were reasonable and fair.
Sahani Howie, DPM


I thought Dr Kwaadu's lecture and presentation style was excellent! I look forward to seeing and hearing more from him in the future.
Anuj Singh, DPM
Hopewell Junction, NY


Enjoyed the Directors Forum. Thank you.
Vincent Migliori, DPM
Hamilton, NJ


PRESENT Thanks the Grand Sponsor of the
2022 PRESENT Podiatric Residency Education Summit East

2022 PRESENT Podiatric Residency Education Summit East Photo Album
See the Conference Photos on Our Facebook Page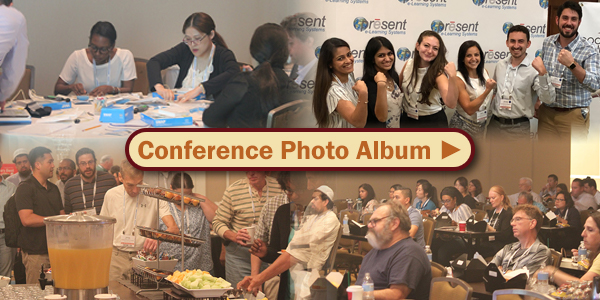 Thank You for Attending the
2022 PRESENT Podiatric Residency Education Summit East

Save the date for next year's Summit
PRESENT Podiatric Residency Education Summit 2023
Live In-Person Conference – August 11-13, 2023
Teaneck Marriott at Glenpointe, Teaneck, NJ